Téa Belog
professional procrastinatior, quality questionable
---
23 || they/them
writer, artist. always off topicmy store is now open!
bigcartel and etsy
zine and project notes
i've been a mod for various fan projects since 2016! this includes fan weeks, zines, and secret santas. i've also run social media for multiple school positions, and have experience in both the traditional and independent publishing industry.i've helped to moderate events with over 400 people participating, and know my way around discord, google apps, notion, and airtable. i have been the lead or co-lead of multiple zines, and was the lead mod of silver lining, which donated over $2,000 to ipscan.
zines i've modded
ongoing projects
a 🟆 next to a role in the 'position' section indicates that my job in that area is complete for this project.
| zine | position | status |
| --- | --- | --- |
| lion lilies: a dadworth zine | lead mod: writing 🟆, organization, social media, shipping | production |
| the great turnabout | finances, production, shipping | production |
| omori's oven | co-lead mod: writing 🟆, organization, social media | production |
| turnabout cinema | production, shipping | production |
| intellectually attracted: a sapphic aa zine | organization, finances, art 🟆 | donation prep |
| with bare hands we reach | writing communications 🟆 | production |
| regalia: a pjo royalty zine | finances, production, shipping | creation |
| blood & jupiter | writing, social media, shipping | creation |
| pillars of love: an ace attorney writer zine | lead: organization, finances, production, shipping, assistant writing mod | creation |
| twisted samurai | writing | creation |
completed projects
| zine | year | position | notes |
| --- | --- | --- | --- |
| miraculous pride zine v1 | 2017 | general | free digital pdf! |
| meddling kids: a scooby doo zine | 2021 | social media | £1,380 donated to american humane |
| a little less alone: a zolana zine | 2019 | co-head: contributor communication, social media, art | free digital pdf! |
| leap of faith: a ladrien zine | 2020 | merch, production | $1,065 to médecins sans frontières; $333.23 to the covid-19 solidarity response fund |
| dream: a barbie art book | 2020 | graphics/layout | $994.40 donated to amazon watch |
| wayward leaves: an otgw fanzine | 2021 | merch | a for profit project |
| silver lining: an adrien agreste zine | 2021 | head: organization, social media, graphics, merch, production, communication | $2,041.02 donated to ispcan |
| bonnes chances: an ml fashion zine | 2021 | general, writing, production | $1,682.56 donated to direct relief |
| fall for you: a ladynoir zine | 2022 | general, graphics, layout | $3,159 donated to partners in health |
| window to worlds v2 | 2022 | general | free digital pdf! |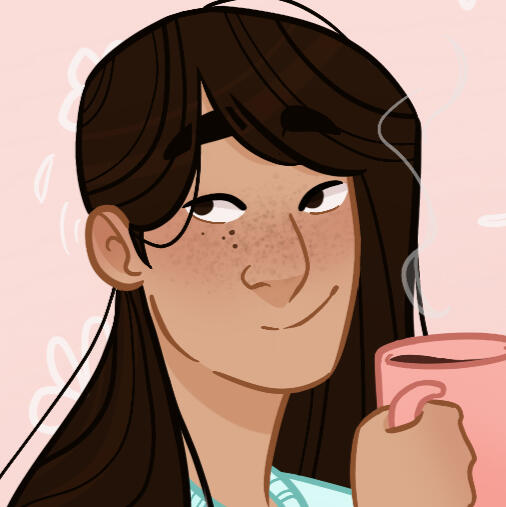 téa (tay-uh) belog
‣ 23
‣ they/them; star/stars
‣ nonbinary
‣ aspec
‣ filipino
‣ eastern timezone
‣ indie author, currently querying (looking for representation!)
‣ freelance artist
‣ zine enthusiast
‣ i have a podcast!
TESTIMONIALS
"murphy's law in a person" - krissey
"zines. clay terran truther. always going 'oh fuck i gotta go do duolingo' during vc" - luka
"has quite possibly the least efficient way to have a hyperfixation" - miryam
"you're a bad movie connoisseur who likes to gawk at trainwrecks" - miryamFAQ
"what does the 🔇 emoji in your status/display name mean?"
‣ if i put the mute emoji in my name or status, it means that i am alright, but offline for personal or mental health reasons. i'm ok, but i won't be responding to messages, asks, or posts.
current major interests
‣ ace attorney
‣ revue starlight
‣ omniscient reader's viewpoint
‣ various podcasts
‣ mythology
‣ anything shakespeare
‣ zines
‣ original works? i'm actually not super super into any other fandoms right now but i'm so in love with my friends' writing right now
things i like but am not like currently breathing for
‣ les misérables (all versions)
‣ anastasia (movie and musical)
‣ like a million other musicals
‣ bbc merlin
‣ percy jackson (always there)
‣ miraculous ladybug (season one)
‣ whatever i'm reading on my goodreads probably!
i'm starting to do more book reviews! here's a list of places where you can find me — i try to post pretty much everywhere, so feel free to choose your favorite book sharing site and ignore the other ones!
disclaimer: all opinions are my own and are not meant to be reflective of an entire group. my reviews are never meant to target any readers or authors. if it's not my jam, it might be yours! and that's super cool because we're here cause we love books!
my reviews are also posted on the websites's blog!
you can also find me at
‣ netgalley: bloomingtea
‣ booksloth: bloomingteaadditionally, i also sometimes talk about books on my twitch! please note that these are unfiltered conversations about books, usually contain spoilers, and i usually didn't like the book very much.
i am looking for representation!i've been writing for as long as i can remember, and have recently been pursuing it as a career! thank you to all my friends and family for the support they've given me because it's been a ride ♡i'm always writing and working on different things, so definitely check out my social media for more information on what's happening. overviews linked below for my major wips!current projects:
less than three
available!
Ren has been in love with his best friend for the past three years. He has no intention of confessing, but he can't seem to move on.
Calliope has spent most of her life dancing. She's decided to put other interests before it now, but it's hard to let go of something she fought so hard for.
Ingrid plans to start over in college, to go beyond what held her back in high school. It's much easier in theory than in practice.Less Than Three is a collection of three short stories about a group of friends. Together, they shoulder their way through romance, all-nighters, and the occasional dragon.
note: print versions are currently only available to buy through amazon. sorry for the inconvenience!
pirates and politics
book one: being edited
Rade is second in line for the throne. They pretend to follow the rules and sneak out of sword fighting lessons to read in the library. They make their sister smile as she stresses over her upcoming engagement. Their parents are almost unbearable, but they're making do.Then they get kidnapped.A trilogy about royalty, pirates, politics, and learning how to create a better world.
---
status details:
‣ book one: draft 5, incomplete
‣ book two: rough outline
‣ book three: rough ideas
‣ zine: possibly still cominginformation on pirates can be found across my social media with the hashtag #piratesandpolitics
the poptart theory
revising and querying
"I have this theory," Zane says, "that all poptarts taste better when they've been toasted. Aside from strawberry, that is. Can't improve on good original perfection."Jere was already depressed before the world ended.
Now he and his friends have to travel cross-country with only a map and a demon cat before the unleashed magic poisons the people they love.
---
status details:
‣ compete
‣ editing (we're always editing)
‣ querying
if you are interested in being a beta reader* or a critique partner**, dm me on any of my social media for details!
* you read through the story and give me your thoughts! i may ask some questions, but beta readers are used to get a feel for what readers will think about the story! NOT the same as an editor and NOT paid** we exchange manuscripts and offer each other advice and edits! each partnership is different, so we can definitely discuss if you're interested!
x the apocalypse
first draft
One thousand three hundred eighty-three days ago, Liam asked Jaz out between the cafeteria vending machine and a trash can. One hundred fifteen days ago, they blocked each other's numbers. The apocalypse starts in three, two, one—
---
status details:
‣ second draft
‣ august camp nano 2020 project
swans, sparrows, and other flying creatures
first draft
-
---
status details:
‣ first draft
‣ nanowrimo 2021 project